Williams of Sanson
This website is maintained by Kerry Geertson, a great grandson of George & Annie Williams, for anyone related to or interested in the Williams family from Sanson, New Zealand.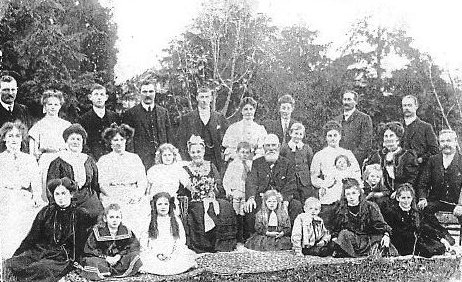 George & Annie Williams Golden Wedding Photo taken in Sanson in 1909.
The history of the Williams of Sanson and their descendants is important to many of us. Well over 1,000 descendants of George & Annie have been identified and we know there are more we still have to find. Their first 8th generation descendant was born in 2004.  Please remember that one day, someone in your family - perhaps your grandchildren - will ask where do they come from and who were their ancestors and what other relatives do they have. This site is for them. Too often in the immediate past some of us have realised - too late - that we should have talked to our parents and grandparents about their lives and their family history. Too late we have discovered that photo or family history material has disappeared, never to be found again.
This site aims to save much of that history, information, photos and archival material for all family members to view. It's part of all our heritage. One benefit of this family site is that any photos of people and historical archival material can never be lost once they are incorporated into the site. Please be part of it and continue to help add further material and information.